Lightning-Speed App Delivery
[REST]    [SAP]    [ABAP]    [.NETCore]    [OData]    [Microsoft Azure]
If you're supposed to deliver an app for Johan Sverdrup and time is of the essence, you need a dedicated and experienced team. Thankfully, the Mobility team is indeed just that.
It's probably no surprise but work on Johan Sverdrup is in quite a busy phase. Since they started work in March this year 7000 work permits have been completed and 800 people are working on the platform. Before the operators can get cracking at their designated task, they need their work permits to be approved.
Previously, this meant playing the waiting game and creating tons of radio noise in the control room as they had to radio in for approval. But as the saying goes the future is now – thanks to Software Innovation's (SI) Mobility team.
"Before, they would carry the permit with them to the work site and then radio in for approval. This put a large strain on the control room communications but now they can use the Work Permit app to activate the orders by only using their pad," Jon Jaatun, UX designer on the Mobility team, explains us.
Curious about what it actually looks like when activating with the Work Permit app? Here's the answer! (Video: Bengt Wigdel)
As we all know, teamwork makes the dream work and thanks to a close collaboration with teams from Johan Sverdrup, Aasta Hansteen and SI the Work Permit app is already live and being used in daily operations. Bengt Wigdel is the Operations Supervisor on Johan Sverdrup and very satisfied with the change that this app has brought to his field operators' daily life.
"Whenever the workers are beginning a task they'll have all the info they need with them in the app, instead of having to stop by an office to get started. This saves us a lot of time but you also make sure they have the right information at the right time," Wigdel explains.
Wigdel also believes using the app will allow the workers to better see the bigger picture.
What is the Digital Field Worker Initiative?
An initiative on the Equinor Digital Radar
Driven by the Digital Center of Excellence
Aims to evolve the traditional field work by deploying digital tools and technologies
Enables use of Ex. certified mobile devices for better safety and efficiency
Reduces time spent on reporting and data administration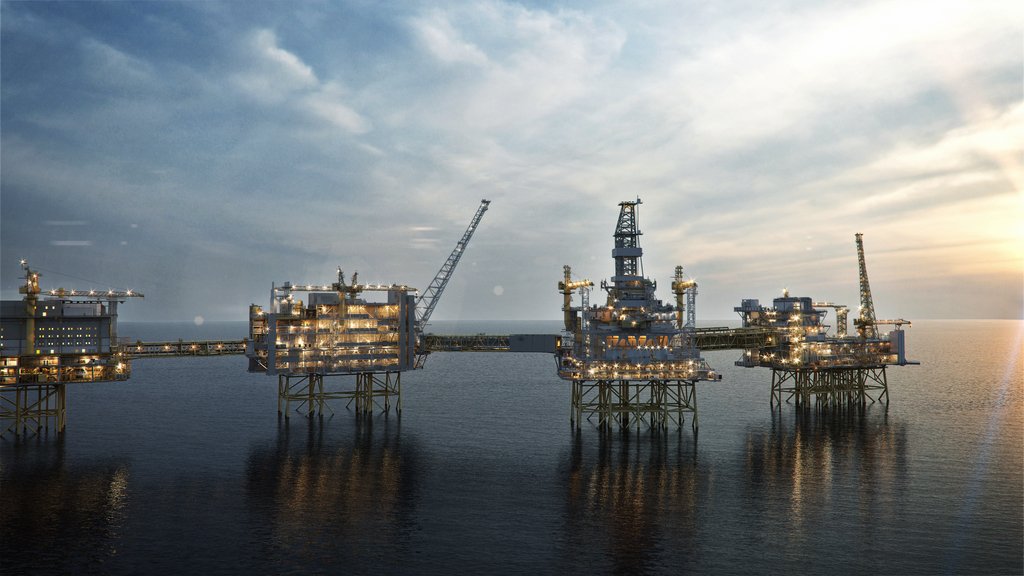 How did Software Innovation's Mobility team come on board with working on the app you ask? It was through a digitalization meeting hosted by Johan Sverdrup (JS).
"We were invited to share what app solutions we had created previously, as they're always eager to look at new digital solutions. Originally, an app like Work Permit had been requested by Aasta Hansteen and we quickly saw that it would be useful for JS as well," Jaatun says.
So what else to do than get to work? With a solid platform to run it all on, the team didn't spend more than a month to get it done. The first minimum viable product (MVP) was released and put into use on July 3.
"This might be our fastest delivered app since we've started. Since it's an app made for working in the field and not in an office it's an interesting task," he explains.
There are different levels to the work permits that the app can handle and for the first edition only level 2 permits are included.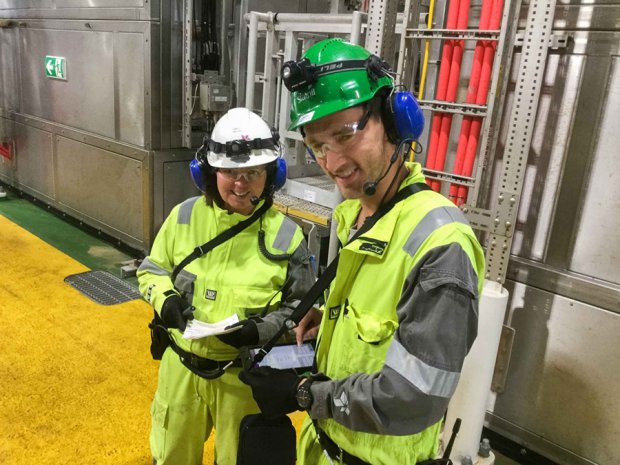 The Work Permit app is making life easier for field operators on Johan Sverdrup.
Photo: Bengt Wigdel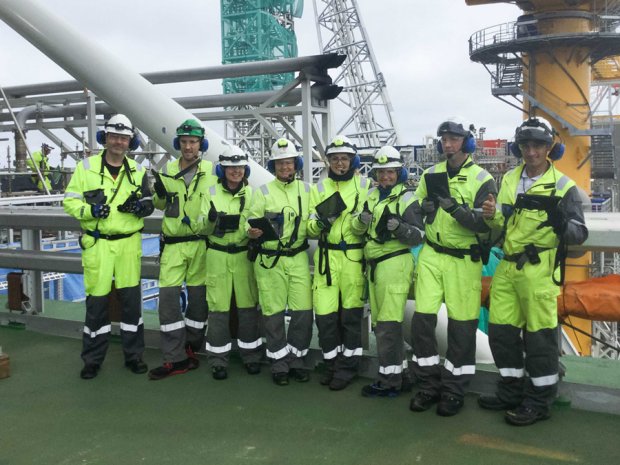 These guys are all providing the Mobility team with crucial feedback to help develop the app.
Photo: Bengt Wigdel
The Work Permit app is making life easier for field operators on Johan Sverdrup.
Photo: Bengt Wigdel
These guys are all providing the Mobility team with crucial feedback to help develop the app.
Photo: Bengt Wigdel
Want to stay updated on Loop?
The team, and Jaatun especially, strongly value being able to get into the field and following its users around. Eager readers may remember the Loop story about Please Inspect, where Jaatun followed an on-shore inspector around to get a first hand look of his work before starting work on the app.
With as little time as they had available for Work Permit however, they didn't get to follow the users around as extensively – but getting the app into use as quickly as they did this time has its perks.

"We got the app into the users hands very quickly and now we're benefiting from the feedback loop that they're giving us, which is a very important tool. This feedback allows us to figure out what needs to be improved or fixed early on."
Jon Jaatun
"This is the strength of this way of working, instead of creating a project across two years with one big release. It lets us improve on the product early on and tackle challenges along the way instead of fighting them all at once," he adds.
His fellow team-member Dagfinn Parnas explains that as soon as the users have an actual working product in their hands, the suggestions for new functionality starts coming in.
"I think this is because they have a live product in their hands. It's limited, yet complete functionality lets them see possibilities much better than if we were to draw it up on a whiteboard," he adds.
Work Permit's Daily Activations as Weekly Average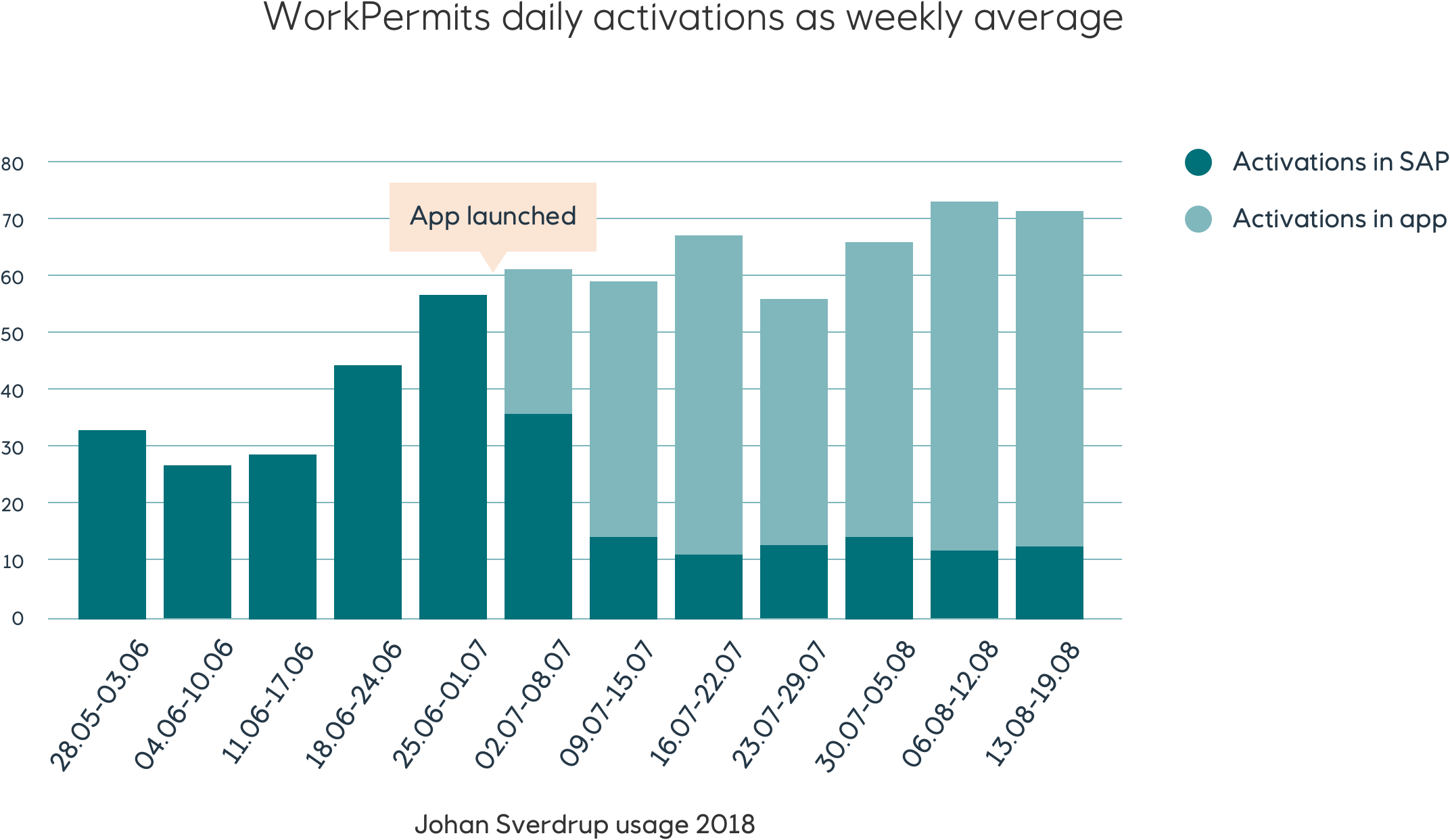 Understanding the Workflow
While Jaatun has been working with user experience on Work Permit, Parnas has had a little different focus. He's been working on defining how the app communicates with SAP and following up the "nitty-gritty" details of the implementation with SAP developers in the team.
"Personally, I think one of our strengths lies in that we don't just check the guiding documents – we go into the code of it all to see how it works. Getting a good overview of how these checks are performed is important to maintain the integrity of the app."
A key component of the Mobility team is the MVP, the Minimum Viable Product. In short it's a working version that has limited usability and functions but it's still able to deliver value to its user.
Dagfinn tells us about why the MVP is such an imporant part of the Mobility team. (Video: Torstein Lund Eik)
1500
Number of work permits activated by the app in July 2018
90%
of these were done by Johan Sverdrup
Supporting a Digital Field Worker
Johan Sverdrup often hosts digitalization meetings and workshops, looking for new ways to help supporting a completely digital fieldworker, where Work Permit is one piece of the digital puzzle.
"For our operators to be entirely digital, they have to be able to take the tools and information they need with them into the field. Whether it's technical documentation, procedures or work permits they need to have them available and working together," Wigdel explains.
He believes that while it takes work to make this happen it'll mean they'll be more efficient in the end.
" I believe that all of these smaller apps are helping shape Johan Sverdrup as the digital leader that we want to be. This means we can make a difference for our operation but it also allows others to learn from us," Wigdel says.
While Work Permit almost didn't see the light of day, Wigdel is very impressed by the speed that SI delivered the app.
"They've not only solved the issue we wanted them to solve but they did it in no time at all. This means that we were able to use it in the current phase of Johan Sverdrup as well. We've had weekly meetings and a close dialogue all the way."
Bengt Wigdel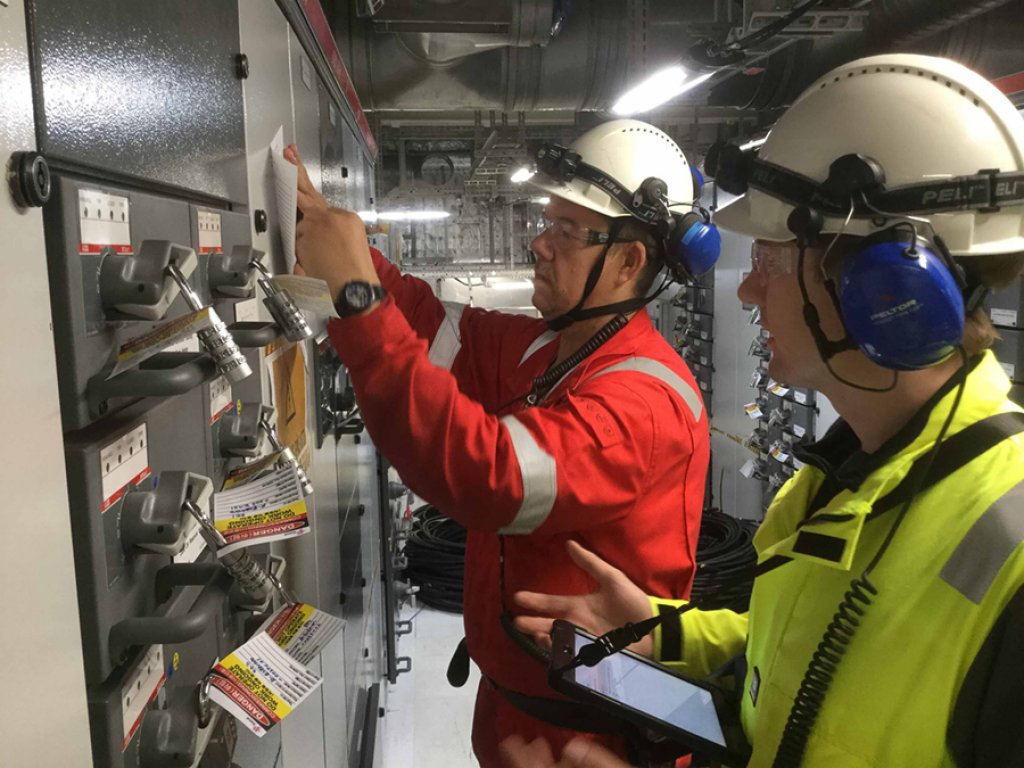 If you've been working hard to create an app it's no lie that it's a good feeling to see it receiving a warm welcome. Within a matter of days, heaps of users were already on board. 

Often, our feeling of the version is based on feedback from a limited number of people but with so many users and very positive usage metrics it's much easier to be certain we've done something right.
Dagfinn Parnas
These days, the team are hard at work looking at the next possible features to be added to the app. Since their launch they've seen plenty of users and plenty of feedback, which they've now gone through.
"Now, we're looking at what kind of functionality the users want and we've begun prioritizing what we're adding next. Then, the next natural step is to add some of this new functionality," Jaatun explains.
Listen to what Dagfinn thinks about the response to the app and why it's so important. (Video: Torstein Lund Eik)
While it's not set in stone yet which feature will be rolled out next, there may be a clear candidate.
"A lot of the users have been requesting functionality that lets them see all active work permits for a designated area. It makes it easier to end work on certain shifts as well as doing a handover for the next shift," Jaatun says.
Only time will be able to tell what the next step for Work Permit will be. But if you're interested in reading more stories about the solutions making the Digital Field Worker a reality, then make sure you subscribe below to stay in the Loop. There's much more yet to come!
Want to stay updated on Loop?